Howdy! Bloggers, welcome to our 3rd series of BMIS (Blogging Metrics Interview Series). First of all thank your Ravi for participating in your interview series.
Today in this post we are going to to take an Interview with Ravi Dixit Founder/Backbone of StayMeOnline. He is a champ blogger in our blogging community.
You know he is my starting inspiration. When I'm thinking to enter in blogging journey, till from then I follow StayMeOnline and Ravi.
Ravi is an impressive blogger with a great knowledge of blogging, affiliate marketing. I highly recommend following Ravi's blog to learn something new.
So, without wasting any more time I'm going to start asking some questions to Ravi Dixit. Are you ready? Let's jump into the Interview with Ravi Dixit…
Interview With Ravi Dixit : Founder of StayMeOnline
Read this awesome interview with Ravi Dixit until the end to gather all the blogging tips and strategies from a pro blogger.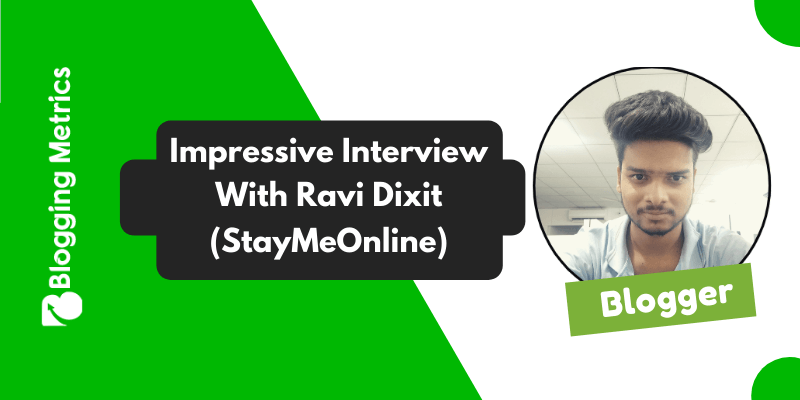 What You Will Get from this Interview?
How to attract new audiences
Blogging & SEO industry in the next 5 years?
Challenges you may face in your blogging journey.
YouTube VS Blogging which is best in 2020?
Authority Blogging VS Micro Niche Blogging
Amazing Tips for newbie bloggers
Question 1: Please introduce yourself to BM readers.
Hello, Amigos!
First of all, thanks Sayan for giving me this opportunity.
I am Ravi Dixit from New Delhi, India, founder of StayMeOnline and a few other sister blogs. I am a full-time blogger and affiliate marketer.
I started my blogging journey on 15 May 2016, on the same day I purchased my domain StayMeOnline.com and a web hosting account to host my blog.
Earlier, I was managing my blog along with my shackle 9 to 5 office job but from July 2019, I came into full-time blogging.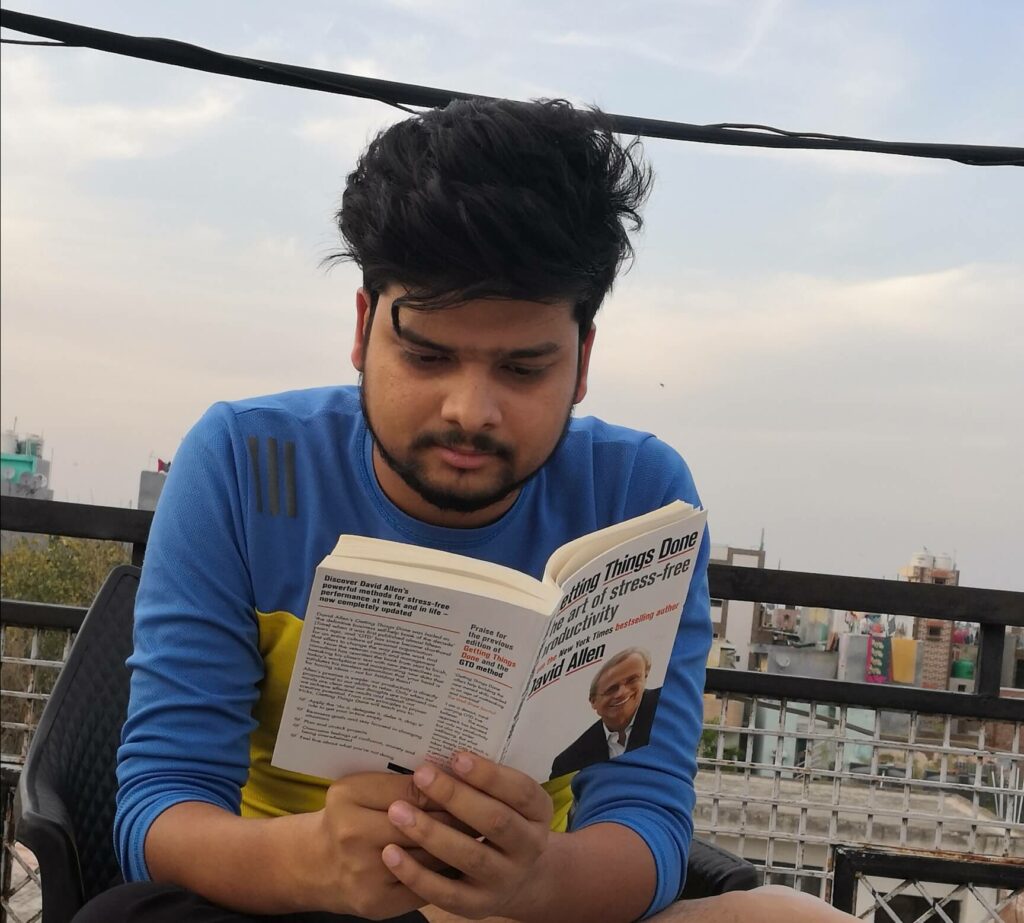 Question 2: How do you attract new readers? Describe the methods you've used and their impact on site traffic?
Attracting new readers means attracting people who never visited my blog before.
Well, that's a hard way to do it but there are some techniques that I use which make it easier.
Guest Blogging
You probably heard that Guest blogging is the best method to build backlinks, right!
But it is also a way to generate new readers for your blog. When you are writing for others' blog, their audience is not aware of you and your blog.
But by writing informative content you can attract them to read more content on your blog.
Being Active On Facebook Group/Forums
There are tons of Facebook groups available on Facebook around a particular niche, I just find groups around my niche.
Then I start being active there and helping others in their problems, don't do any link-sharing or other spamming activity.
Imagine, When someone is helping you, you surely want to know more about him/her.
That's the way I attract new readers from other Facebook groups to read my blog. Not only I get new readers, rather new group members, subscribers and eventually some affiliate sales.
Blog Commenting
Beginners usually use Blog Commenting as building some no-follow backlinks, but it doesn't work if you failed to do it effectively.
If done effectively, blog commenting can give you some other benefits apart from a no-follow backlink which doesn't pass any link juice.
I do it for generating new readers to my blog, I read others blog posts within my niche and find out what they missed to include. Then I mention those points in the comments section by writing a long informative comment.
By doing this, I am showing my expertise in that particular topic. Their audience whoever will read my comment, they will surely click on my name to visit my blog.
Collaborating With Others
This is another working technique to attract new audiences to your blog.
You can collaborate with other bloggers or people from the same niche, like you can host a webinar together or do a live etc.
By doing this, you can introduce yourself and your blog to their audience.
It works like a charm… Just find the bloggers from the same niche who have a big audience.
These are some pretty small techniques but if you do it in an effective and consistent way, you will get good results.
Question 3: What kind of changes you are expecting in the blogging and SEO industry in the next 5 years?
This is an amazing question!
Most people think that blogging will not exist after the next 2-3 years, but this is completely wrong. Blogging will be there even after 5 years also.
But the way of consuming content might change because now people are more interested and comfortable in consuming video and audio form of content rather than reading text.
Because video and audio content let you multitask, you can do other work also along with listening to a podcast episode by putting in your earphones.
Content freshness will be going to play a very important role, so you should start updating your content frequently to keep it fresh.
Google will become smarter as it is being every day, quality content will still win than copied content and content done with black-hat techniques.
Question 4: Suppose someone loses his patience after repeatedly failing in his blogging journey, how do you motivate him to start again?
Well, this is the most challenging phase they need to fight with…
I have faced the same many times in my entire blogging journey, but the thing which helped me to overcome that situation and continue my journey ahead.
That thing was, I always searched for the mistakes that I made and which lead to demotivation and a mindset to quit from blogging.
So, I recommend everyone who is demotivated and thinking to quit, look for the mistakes you made and find out their solutions.
Question 5: What are the things we need to keep in mind while doing keyword research and post writing?
Always prefer investing good time on keyword research before writing your post.
Here are the things that you need to keep mind when doing keyword research and post writing:
Choose an accurate tool, I prefer SEMrush for doing keyword research because it offers an exclusive keyword research tool that makes finding low-competition keywords too easy with the use of its advanced filters and sorting options.
Find Long-Tail variations of your seed keyword that you are going to target in your content. Because they are usually low-competitive so it is easy to rank for them.
Instead of putting your seed keyword again and again which might lead to keyword stuffing, use LSI keyword it will also help in improving your content's topical relevancy.
Focus on the search intent of your keyword, find out why people are searching your keyword and what they are looking for.
Do not target short-tail keywords with high competition if you have a new blog.
Analyze the top 10 results for your target keyword you are going to write about before writing your post and search for how they have written their content, total backlinks they have, what they missed and everything that can help you to create more quality content than theirs.
Question 6: What is your first priority? Authority Blogging or Micro Niche blogging? and any specific reason for choosing this?
Obviously, Authority Blogging! Because Micro Niche blogging can earn for you for a short period until the trend of that micro niche expires but if you go for the authority blogging, your blog will be earning for you for lifelong.
That's a big difference between the Authority and Micro Niche blogging.
And, Google loves authority blogs more than micro niche blogs. You can say Google hates Micro niche blogs and target them via their animal updates.
Question 7: What was the most challenging thing in your niche?
It is definitely high competition, everyone who is starting a blog, picking the blogging niche to start their blogging journey.
It is not always because of their interest, rather the people they are following and by seeing their mentors' income report from the same niche.
They forget about their interests and other important things, just follow the crowd.
In my niche, there are a lot of big players exist who have good authority. They are in the same niche for decades now and built a huge audience base.
So, competing with them is tough… But it doesn't mean, we can't win the space because they are there already. We can just by providing quality content and with more efforts on SEO and other important things.
Question 8: What was your biggest mistake as a beginner when you started your blogging journey?
I have made a lot of mistakes, trust me. But I always learnt from them and this is the reason why I am still in the blogging industry.
If we talk about the biggest mistake ever then it was buying backlinks from Fiverr. Yes, It was the biggest mistake I made in my entire blogging journey which pulled down my blog's authority and rankings on SERP.
When I was new in this, I had less knowledge about the backlinks, rather than just knowing that backlinks are the most powerful factor that decides a web page ranking on Google search result pages.
I got a gig on Fiverr in which a guy was offering almost 5k backlinks for only $5, I was amazed and happy as well and thought, I can build thousands of backlinks for just $5.
But later with the time, I realized those backlinks are hurting my blog's performance and authority. So I disavow all of them to keep my blog safe from Google penalties.
I have written the complete case study here, you can check that if you want to learn more deeply about my experience and the things I faced.
Question 9: What is your favorite SEO tool? and any specific reason for choosing this over the others?
I use SEMrush for performing various SEO tasks like keyword research, site audit, backlink audit, competitors analysis and plenty of other tasks.
I love SEMrush because it is a perfect bundle of SEO and Social Media tools, you will get everything that you need to grow your blog in the SEMrush tool.
When I made that mistake of buying backlinks from Fiverr, SEMrush was the main player that helped me in identifying the bad and toxic domains pointing to your site and disavowing them.
People often think that SEMrush is an expensive tool which is not affordable for everyone, but if you look closely at the tools they are offering, you will realize it is not that much expensive.
Question 10: YouTubing vs Blogging, what's the best according to you in 2020?
Totally depends on person to person, like some are comfortable in writing content. They can easily write content but when it comes to facing the camera, that is not their cup of tea.
Whereas, some can't write but they can easily face the camera and record videos.
Both YouTube and Blogging have good potential but it totally depends on you which you want to go with.
If you are comfortable in both, you can even go with the both. You can create a blog around a niche and record videos about the same for YouTube channel.
Here is a slight advantage of YouTube, as the era is changing now people are more comfortable to watch videos than reading an article.
But it doesn't mean that no one wants to read articles… There are people who prefer reading articles than watching videos, because they found more comprehensive details about the topic in articles.
Question 11: How BloggingMetrics readers can stay in touch with you?
Your readers can easily stay in touch with me by joining our Facebook group dixravi.com/group because I am mostly active there to help beginners and others who are suffering from any issues with their blog.
Or, your readers can get in touch with me on any social media platform by using my username @meetravidixit.
Question 12: What is the message for Readers?
Blogging is incredible, but not a quick-rich scheme where you can start getting $$$ from the first day.
It needs you to invest time and effort to show you results, I got my first dollar from my blog after almost 7 months of starting my blog.
There will be many phases in your blogging journey when you feel like quitting from blogging, those are the challenges for you to stay on track. Learn from your mistakes and come back with 2x power.
One important thing, focus on providing value first, once you succeed in providing value through your content then money will start dancing into your bank account.
In previous I post an amazing Exclusive Interview With Santanu Debnath Founder of BloggingJoy. You can checkout this as well.
Interview Summary
Thank you, Ravi, for this great opportunity. I feel awesome to feature you in my blog. Love to read your articles.
I hope you guys enjoyed this Awesome Interview With Ravi Dixit, post. If you liked this article, please share it with your friends. If you have any query you can contact me or put comments on this post.
So please give your valuable thoughts in the comment section. In the future, I'll try to take an interview with other famous bloggers. Also, you can follow me of social media or join our facebook blogging group. Bye Bye…