How to Move Blogger to WordPress: Today I'll be showing you how you can move your Blogger site to WordPress. If you have an existing blogger site and you want to migrate into WordPress, this article is for you.
Read the full article properly to migrate your Blogger blog/website into WordPress without losing any data.
So, Why Move to WordPress?
Even though, It takes a lot more time to set up WordPress. Now let me explain you can do a lot more with it than a Blogger. For example, there is something called plugins in WordPress which helps you add new features to your website.
So, let's say you want to add a live chat to your website, you can do it, just by installing a plugin in WordPress.
And finally, WordPress also helps you to build your website just like this using the drag & drop method.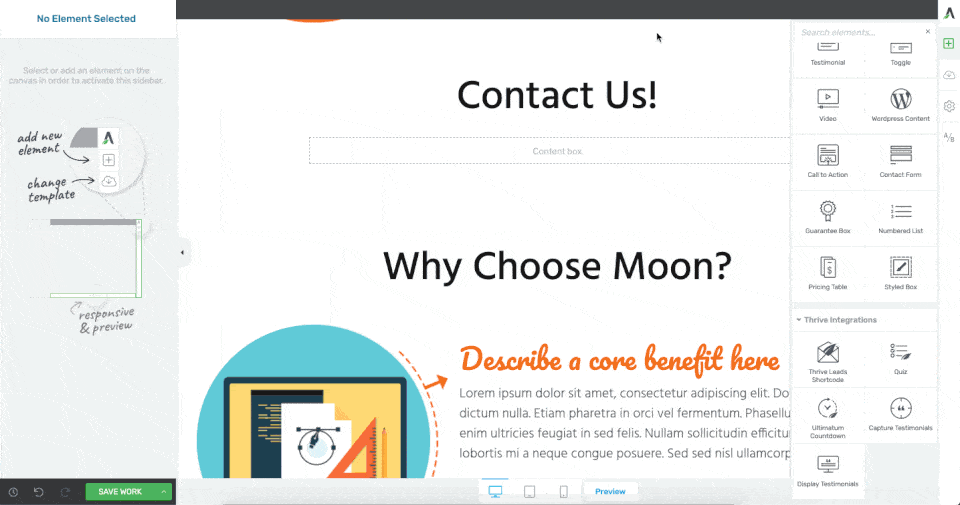 So make sure you read this complete article till the end to see how you can do it.
So, Now let's take a look at the blogger site. This is the blog that I've built on Blogger. Now to move this site, to WordPress, we're going to do the bellow steps.
Okay! So Let's Move Site From Blogger to WordPress
Now to move the Blogger site to WordPress, we're going to do 5 Steps. 1st, We're going to 'save' the contents of this blogger site into a file. Then, in STEP 2 we're going to launch a new WordPress site. SETP 3, we'll import the Blogger content into WordPress. STEP 4 setting up permalinks and finally STEP 5 redirect the old content to the new domain.
Step No.1: Save Our Blog's Content Into a File
So, to save the blog's content, let's go to our Blogger dashboard. Now make sure your blog is selected here and then go into 'Settings' and go into 'Other' Now click 'Backup content' and 'save into your computer.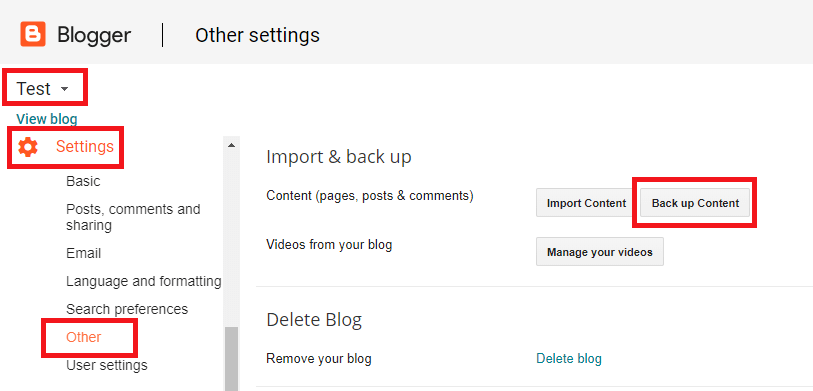 So now you can see that, we've downloaded our blog content from the blogger dashboard in this XML file.
Step No.2: Launch a New WordPress Website
So, to launch a new WordPress website we have to complete 2 tasks. So let's get started with the 1st task.
Task #1: Select A Good Domain Name For Your Blog
You can choose a name for your website. You can choose any name you want. If you're unable to find a good domain name for your blog then follow these simple and easy steps to find an amazing domain name.
Choose something similar – When you're choosing a domain name keep in mind that your niche name should be in your domain name because it helps people to know about your website.
For example, my website is about blogging tips so I have added the word blogging in my domain name.
Do not use hyphens and numbers – I have seen many bloggers they are using hyphens(-) and numbers in their domain name but I think it's not good.
Let's see, an example: Good domain – bloggingmetrics.com, Bad domain – blogging-metrics.com
Always choose .COM domain – If you're going to start a blog/website then I'll suggest you to buy a .COM domain because you can easily rank it worldwide but if you're making your site for a particular country then you can go with another domain.
I hope these tips will help you with choosing a perfect domain name for your website or blog.
Task #2: Best Web Hosting For You On A Reasonable Price
Choosing the best hosting at a reasonable price is a very difficult but very important part.
The selection of bad hosting is the first biggest mistake I have ever made in my staring career.
When I started my blogging career I purchased hosting at $1/month and this is my biggest mistake.
Because of the speed of their hosting and the customer is very bad. Due to which I had to face a lot of problems and I think I was giving my 1-2 hours in a day to solve technical issues of my blog.
But the mistake I made at that time, I do not want you to repeat those mistakes.
So I'll also recommend you not to buy cheaper hosting because they will not give you good support, their speed will be very slow and there are also many problems with cheap hosting.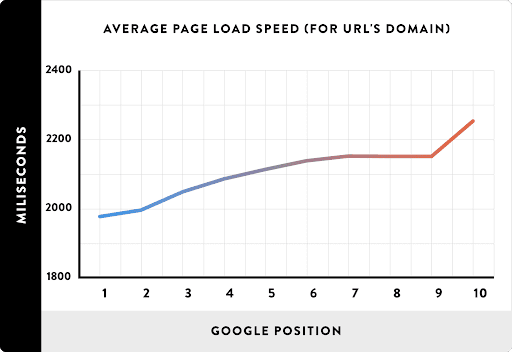 There are 5 most important things which you should keep in mind when buying a hosting.
Page Speed – Speed matters a lot for your website So always choose a hosting that has good speed.
Uptime – Uptime means how long your website is online or running. The uptime of A2 Hosting is 99.99% and it's amazing.
Customer Support – Customer support matters a lot If you buy cheap hosting to save some money. You will not get good customer support there, due to which you may face many difficulties.
Security – Security is also the very biggest factor because, in today's time, cybercrime has increased so much, so you need to be as alert as possible.
How to Buy Perfect Web Hosting?
Step 1: Visit This Special Link to activate 71% Off and choose your hosting plan. There are three shared hosting plans of A2 Hosting which you can see below: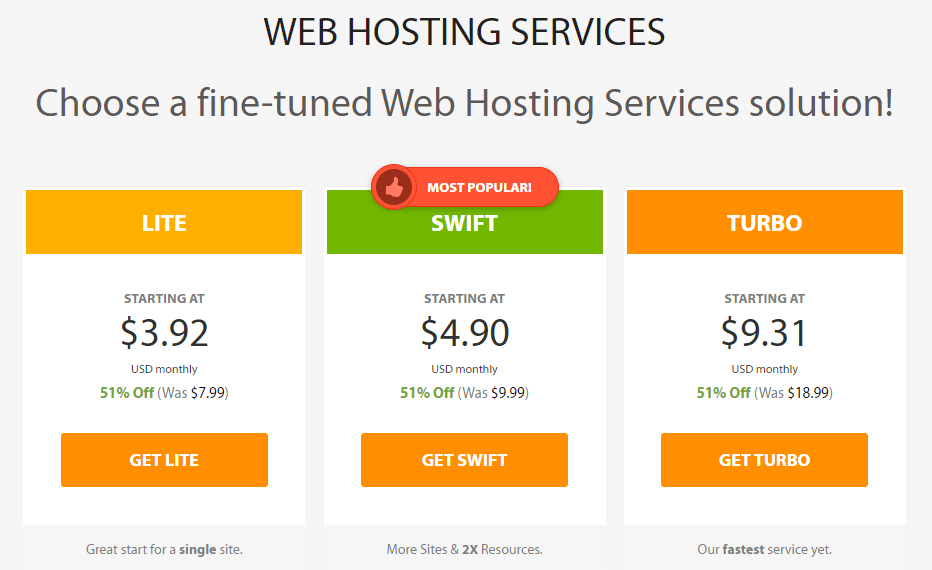 Click Here to Get 71% OFF
Here you'll have to choose your plan and click on the GET button I'll recommend you go with the GET SWIFT plan because it has a lot of features at a reasonable price.
Step 2: Enter Your Domain Name. If you already have a domain name then select the second option (I already have a domain name) and then enter your domain name.
Step 3: Verify Your Selected Plan
Here you'll have to select the duration of your hosting (I'll recommend you to go with the 1-year plan), select your nearest data center. I'm from India so I will select Singapore (Asia/India).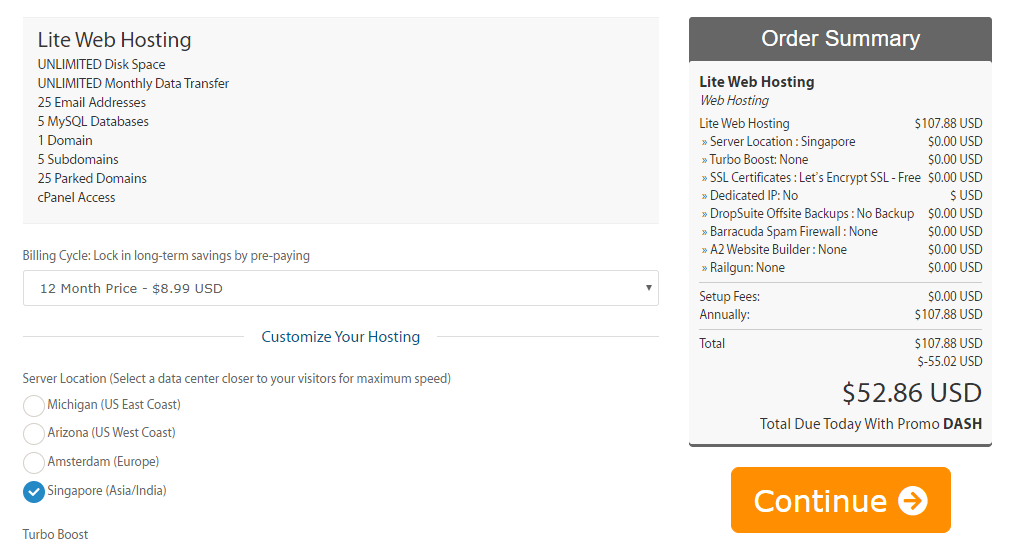 Step 4: Final Review and Checkout Your Plan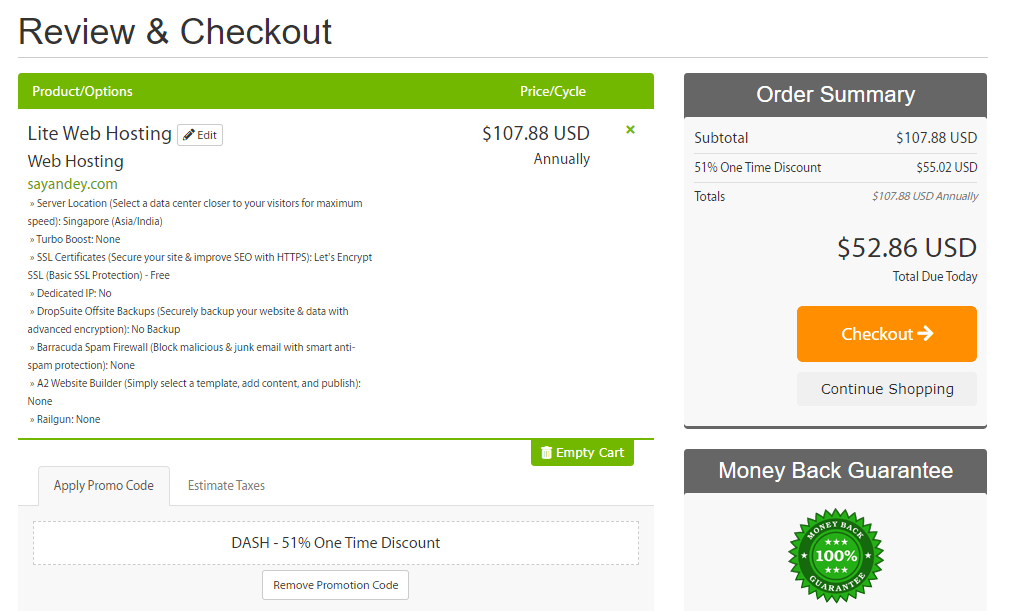 Step 5: Fill your personal details and account password.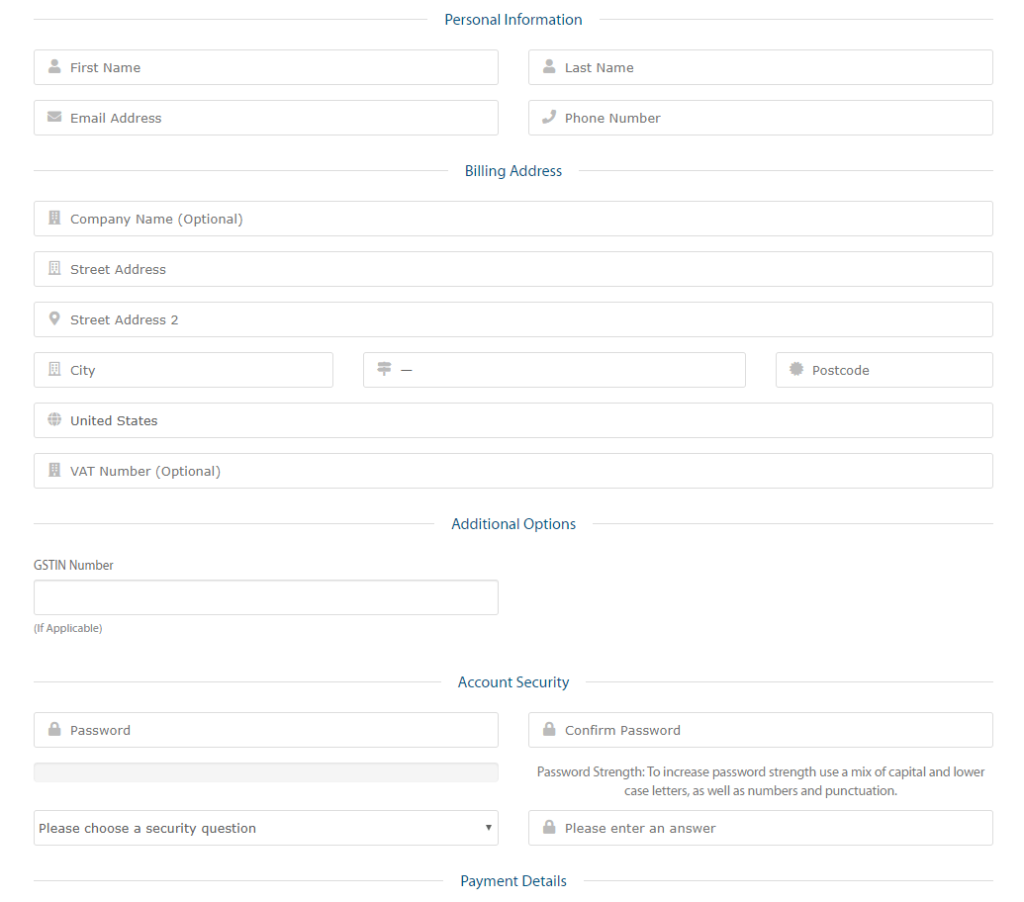 Here you will have to fill your personal details like First name, Last name, Address, Email, Password, etc.
Step 6: Enter Your Credit/Debit Card Details

Step: 7: Agree To The Terms And Conditions
Wait a few seconds and you are all done. Now after some time, you will get all the credentials of your hosting like your nameservers, your cPanel login details, etc.
How To Connect Domain With Hosting
If you have purchased your domain from another domain provider then you will have to connect your domain with your web hosting.
This is The A2 Hosting Nameservers
ns1.a2hosting.com
ns2.a2hosting.com
ns3.a2hosting.com
ns4.a2hosting.com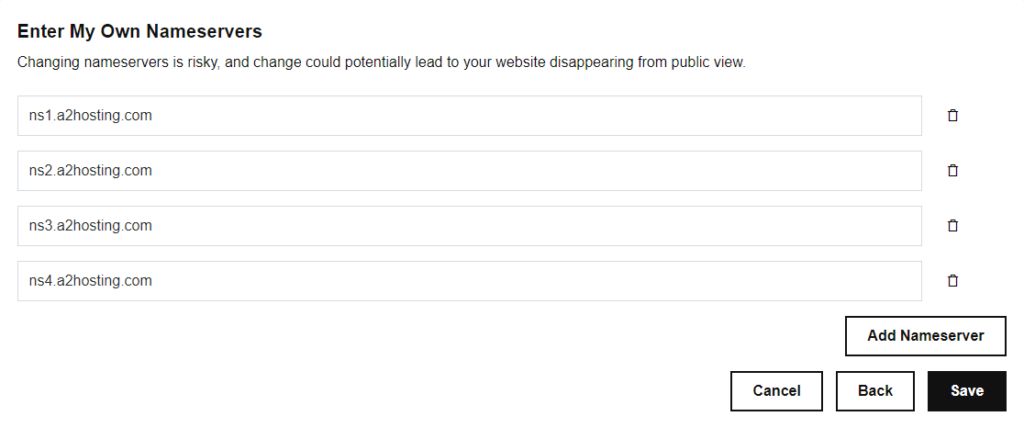 After purchasing the hosting you'll get an email from A2 Hosting where you will get your nameservers just go to your domain provider and enter your nameserver in your DNS settings.
Task #3: Install WordPress on Your Hosting
After connecting the domain and the hosting now it's time to install WordPress on it.
Step 1: Log in to your cPanel with your username and password which the hosting company provided you in the email. Normally your cPanel URL is: https://yourwebsite.com/cpanel/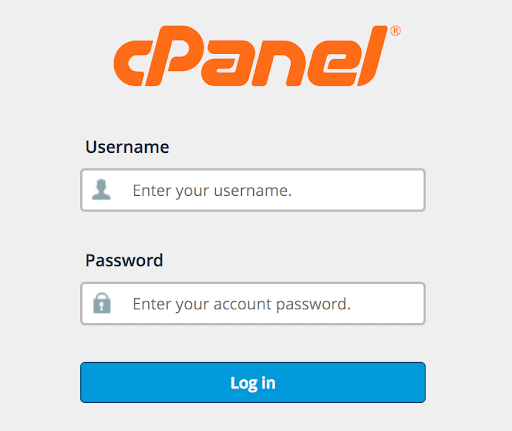 Step 2: Go to the Softaculous app installer here you will see much software you have to click on the WordPress icon.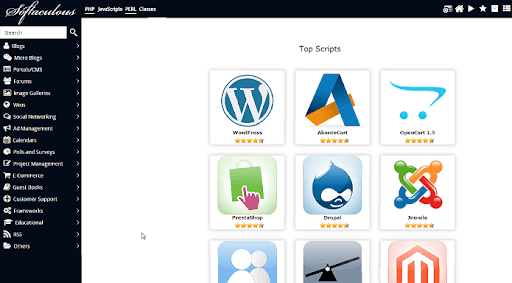 Step 3: After clicking on the WordPress icon you will see an interface something like this now you have to click on install WordPress.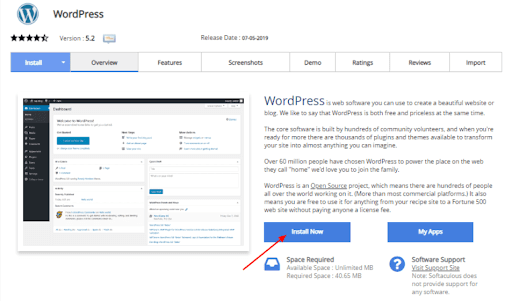 Step 4: Here you'll have to choose a site title, username and a password and an email after entering these things click on Install WordPress button.
Now you have successfully installed WordPress. If you want to open your dashboard just go to this URL (https://yourwebsite.com/wp-admin or https://yourwebsite.com/wp-login.php) and enter your login details.
Step No.3: Bring The Blogger Content Into WordPress
This is the most important and vital part of this article. So, to import our blogger content, let's go to our 'WordPress Dashboard' and then go to 'Tools' and click 'Import'.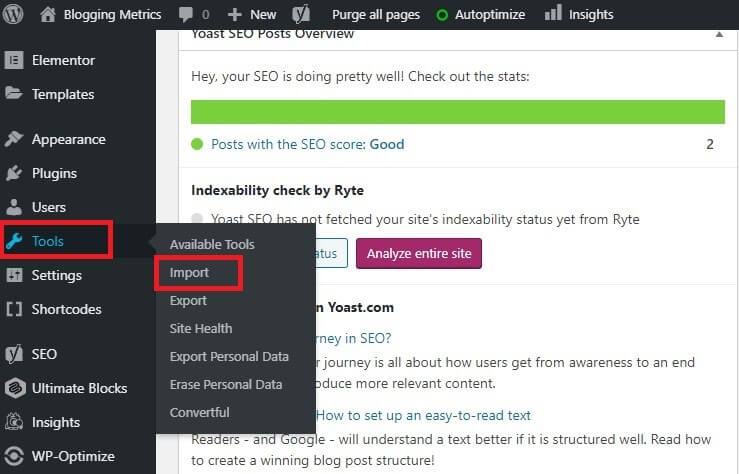 Now as we're going to import the blogger content. So, let's click the 'Install Now' button of the Blogger tool after install click on 'Run Importer'.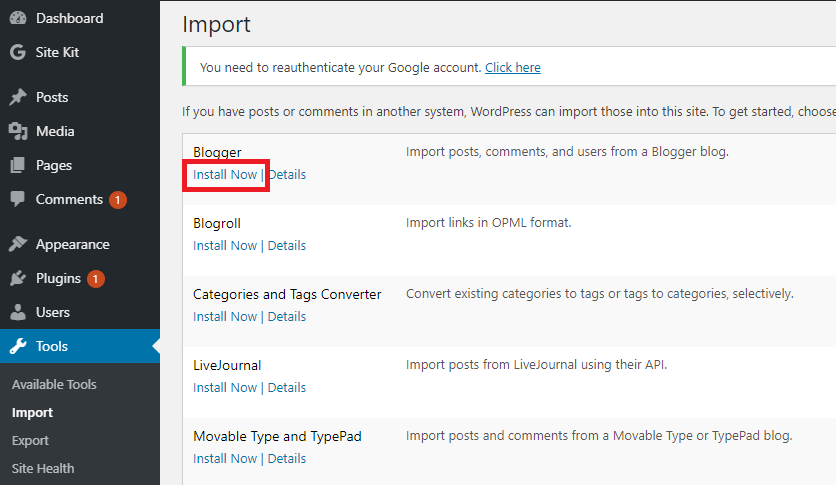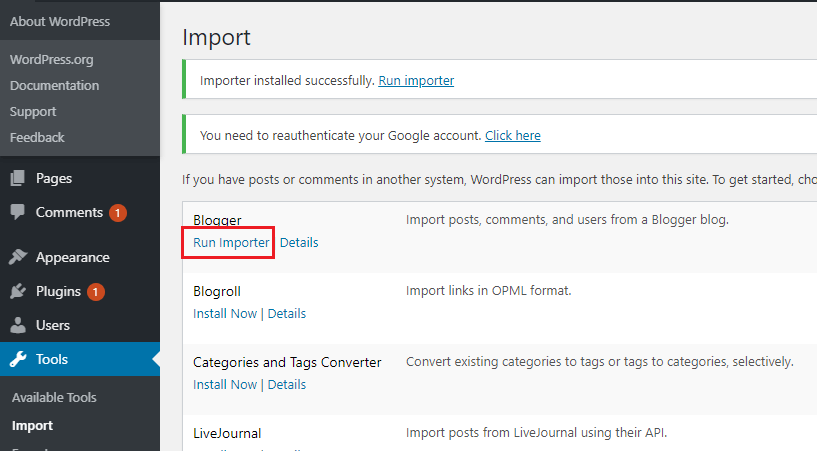 Now, let's choose the file which you want to import. So select the file which you downloaded from the blogger and click 'Upload file and import'.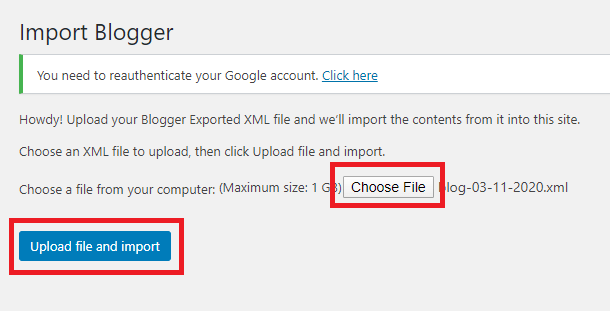 Now click 'Submit' to start the import and your all blogger's content will be imported into WordPress.
Step No.4: Setting Up Permalinks
The content is successfully imported, and you are one more step closer to having your entire Blogger blog added to your new self-hosted WordPress site. Permalinks are URLs that WordPress uses when organizing posts & pages.
Each post, page, media file, etc. has to have a unique permalink (the address) to work properly. Permalinks might have a huge impact on your site and SEO. And while you can set them up as you wish when starting a new website, we would suggest a different approach when importing a site from Blogger.
Blogger uses month & name to distinguish permalinks. So, if you go to any of your Blogger posts, you will see that it looks something like this: https://demoblog.blogspot. com/2019/05/this-is-post-title.html
In order to keep things in order, we suggest changing the permalink structure in WordPress to resemble that one in Blogger as much as possible:
Go to Settings -> Permalinks
Choose "Month and Name" option
Scroll down and click "Save changes" button
Step No.5: Redirect The Old Content To The New Domain
It is the most vital part of moving your website Blogger to WordPress. If you run your website or blog in the Blogspot subdomain so, move Blogger to WordPress can impact on your search engine (SEO).
In order to make this work, you will need to set up the redirections both on your Blogger and WordPress site.
So if you redirect your blogger site to your new WordPress site you have to change your blogger theme and do some coding on your blogger.
Log in to your Blogger account
Navigate to Themes
Scroll all the way down and click on "Revert to classic themes"
As soon as you confirm that you want to revert to classic themes, Blogger will show you a new settings page. On the page, scroll down to the "Edit Theme HTML" section where you get to see the code that powers up your current Blogger themes.
Select the entire code in the Edit Theme HTML
Delete the code that you have selected
Copy and paste the following:
<html>
<head>
<title><$BlogPageTitle$></title>

<script>
<MainOrArchivePage>
window.location.href="http://example.com/";
</MainOrArchivePage>
<Blogger>
<ItemPage>
window.location.href="http://example.com/?blogger=<$BlogItemPermalinkURL$>"
</ItemPage>
</Blogger>
</script>

<MainPage>
<link rel="canonical" href="http://example.com/" />
</MainPage>

<Blogger>
<ItemPage>
<link rel="canonical" href="http://example.com/?blogger=<$BlogItemPermalinkURL$>"
/>
</ItemPage>
</Blogger>
</head>

<body>
<MainOrArchivePage>
<h1><a href="http://example.com/"><$BlogTitle$></a></h1>
</MainOrArchivePage>
<Blogger>
<ItemPage>
<h1><a
href="http://example.com/?blogger=<$BlogItemPermalinkURL$>"><$BlogItemTitle$></a></h1>
<$BlogItemBody$>
</ItemPage>
</Blogger>
</body>
</html>
Go through the code, and replace "http://example.com/" with the URL of your new domain. Check this twice because even the slightest typo will render the redirection useless
Click the "Save theme" button.
By doing these steps you can successfully migrate/move your website from Blogger to WordPress.
Move From Blogger to WordPress FAQs
Here I explain some common FAQs about this topic which people generally ask. So, you can follow these FAQs for better understanding.
1. Should I move from Blogger to WordPress?
If you focus on blogging you should definitely switch from Blogger to WordPress. Because of you can get these facilities in WordPress.
Better design options
Better SEO
Easy to manage
Full control
Faster loading
Easy to sell
Plugins for doing anything and everything
Amazing website theme
Easy payment gateway integration
Create custom users
2. Does WordPress cost money?
WordPress is an open-source software is free for you to download and use. However, to use WordPress on the web, you will need web hosting and custom domain name.
3. Can I install WordPress on Blogger?
No, you can't install WordPress on Blogger. But you can import blogger content into WordPress. To start importing your Blogger site into WordPress, you need to login to your WordPress admin area and visit Tools » Import.
Move Blogger to WordPress Conclusion
In this post, we write about How to Move Blogger to WordPress If you like this article and helpful for you please don't forget to like and share with your friends because sharing is caring. If you have any suggestions doubt please comment below or contact me via click here.
Moving a blog from Blogger to WordPress is not that difficult even if you're a complete beginner. But as you can see from this complete guide to properly migrate your website Blogger to WordPress.
People Also Search For