Do you know there are over 5000 web hosting companies in India and over 330,000 worldwide? Imagine how difficult it is to choose one when all the companies claim to provide the best services. Should you choose a local web host provider or a global one? I know, that is a hard one to answer.
The increasing advancements in web hosting need affordable and cheap web hosting service providers. So are you searching for what is web hosting service providers of 2023? I understand your concern, and to help you out with this, I have put together a detailed list of the top 3 web hosting companies.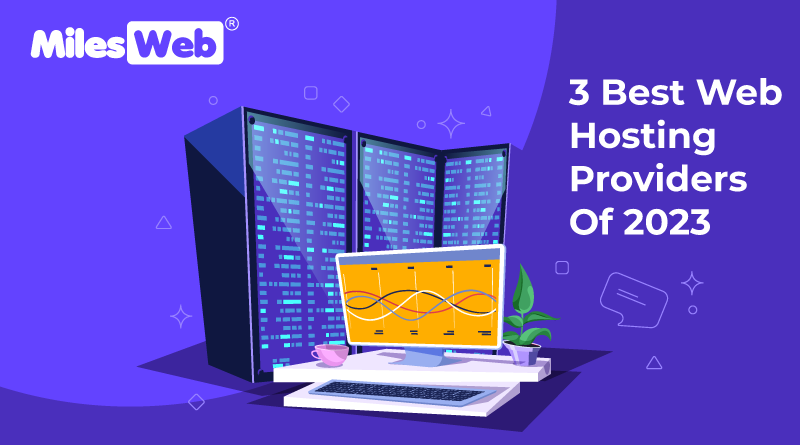 All the information mentioned in this article has been collected after thorough research and considering customer reviews of the specific companies. To give you a detailed review of the top three web hosting companies, I have compared the key points of each company along with the features they provide and listed them for you.
The comparison will let you know the best one and help you choose the ideal website fit. So, without anything else, let us start..
1. MilesWeb
If you are looking for a reliable web hosting provider for your website, MilesWeb can be on your list. MilesWeb is amongst the highly recommended host in the market. It has 8 data centres around the globe to serve its clients the fastest experience of web hosting network. Here are the ranking factors of MilesWeb:
Uptime: 99.95%
Average response time: 300 ms
Fully built site loading time: 1.6s
Customer support: 24/7/365 customer support via live chat, tickets, email and phone
Price: Ignite($1.12/mo), Elite ($2.52/mo), Stellar ($3.90/mo). The charges may change according to the hosting plan, add-ons, etc., you choose for your website. There aren't any hidden charges, and prices increase as per the plan you select and the resources you require.
30-Day Money-Back Guarantee
Rated on Trustpilot with a 4.9/5
Additional Features: unmetered bandwidth, free SSL certificates, free domain malware scanning, AI website builder, free website migration, one-click installer, website builder tool and wide range of hosting options (shared hosting, reseller hosting, wordpress hosting, VPS hosting, cloud hosting and dedicated server hosting).
MilesWeb is known for its budget-friendly hosting plans and great customer satisfaction. It has served more than 1 million websites to date.
2. Bluehost
Bluehost is also among the top web hosting providers. It comes with various solutions, majorly with plans for WordPress hosting. While cPanel works great, Bluehost also lets you install WordPress, add domains, and configure performance and security settings. Check out the below key factors of Bluehost:
Uptime: 99.99%
Average response time:361ms
Fully built site loading time:1.8s
Customer support:24/7 customer support via live chat and phone
Price: Basic ($2.95/month), Plus ($4.95/mo), Choice Plus ( $4.95/month), and Pro ($13.95/month). Prices are higher as compared to MilesWeb.
Additional Features: unmetered bandwidth, free SSL certificates, at least five email accounts, a free domain, free CDN, malware scanning, and an AI website builder.
30-Day Money-Back Guarantee
Rated on Trustpilot with a 4.5/5
Bluehost claims to give 99.99% uptime to the website. However, at certain times the website may face downtime issues.
3. Hostinger
Hostinger includes a comprehensive feature set, a user-friendly control panel, and excellent customer assistance. It also offers a choice of 7 data centre locations. It has a user-friendly interface and an advanced custom-built hosting panel. Below are the key factors of Hostinger:
Uptime: 100%
Average response time: 511ms
Fully built site loading time: 0.8s
Customer support: 24/7 customer support via live chat
Price: Premium ($2.99/month), Business ($3.99/month), and Cloud Startup ($9.99/month). Prices are higher as compared to MilesWeb and Bluehost.
Additional Features: unlimited bandwidth, free CDN, weekly backups, a free SSL certificate, a custom domain name, technology of LiteSpeed web server and caching.
30-Day Money-Back Guarantee
Rated on Trustpilot with a 4.5/5
Hostinger offers 100% uptime, but at the same time, its average response time reduces to a greater extent.
Conclusion
To make your business work effectively, choosing a web hosting service is a difficult decision to make.
Among the above options, MilesWeb has the best offers in terms of pricing, resources, customer support, and best web hosting solutions. I am sure now you have a clear idea of how MilesWeb can be your go-to option.
Currently, MilesWeb offers 70+ web hosting plans to suit the different requirements of the various websites. Each plan is best according to the resources and budget.
You can study the customer reviews to learn more about the support and web hosting plans. To have more information and make an in-depth comparison of the extended features of all the mentioned companies, you can also visit their website:
I hope this article has helped you make your decision-making process a bit easier.